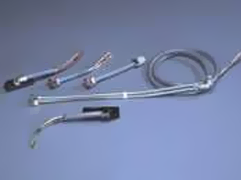 Powerful Electrical Distribution Systems
Technology - Trac Pac 8® is a powerful panel power package. It offers four or more outlets on each side of longer Tracks. It has eight wires, four circuits, automatic length adjustment, multiple power entry devices, and a multitude of outlet options. Just four basic parts install quickly without tools. Circuitry includes isolated circuit(s) for technology use. Isolated circuits provide clean power for digital equipment, like desktop and laptop computers, digital cameras, and printers. Other circuits provide utility power for ambient light, space heaters, and other specialized equipment.

Flexibility - The interconnecting length will adjust to a precise need using a unique track feature. Interconnecting cables always lay perfectly flat, with no snaking, straining, or pressure on side cover plates. They cross posts, round corners, and make adjacent panel connections with equal ease.
Adaptability - Power entry will never be a problem with our selection of power entry methods. Any panel will accept power from the wall, floor, column, or ceiling. A unique 180 rotating power entry even passes through a receptacle size opening. The Outlet Option Module presents the end user with an unmatched variety of devices and circuit access. Adapting to future demands is a snap by releasing each module and replacing it with the one precisely tailored to the need.
Simplicity - Trac Pac 8® provides four basic parts which adapt to match the manufactured modularity of the furniture. It answers an engineer's toughest problems. Trac Pac 8 is pleasing to the designer's eye and surpasses a specifier's special requirements. It is an installer's dream and fulfill's a user's future demand. It is simple sophistication.

The people of Union Products International, Incorporated build high value, quality electrical products for a worldwide market of discriminating customers in office furnishings and commercial architecture.

The work is never at the expense of personal pride or dignity. Each person is key to overall success and is treated with respect, fairness, and given equal opportunity.

Our unique product designs lead us into markets and new opportunities.

Our customer service, demanding quality, excellent delivery, and outstanding technical support follow product lead to make our value overwhelming when sold at competitive prices.
This site best viewed at 1260 x 1024 resolution or greater. For instruction on how to change, click here.
This page copyright © 2012 Union Products International, Inc. All rights reserved.
This page last updated on September 6th, 2012 3:00 P.M. E.S.T.
Please report errors to preed@upi-inc.net