Datacom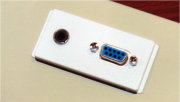 DataCom™ installs easily to provide users convenient access to data and communications jacks. DataCom™ components fit in any standard decora sized hole.
DataCom™ easily installs without tools in any raceway cover, regardless of material thickness or hole tolerance DataCom™ Backer Ring also fits standard wall boxes and installs with two ordinary screws
The Custom Tolerance feature built in to each DataCom™ component allows easy installation for chosen material thicknesses between .04" (1.016 mm) metal and .14" (3.556 mm) fabric.